Are you interested in learning how to clean car windows like a professional? This can be a daunting and frustrating task, especially if you are not using the same types of chemicals and tools that are often used by professionals like Splash and Go Express Car Wash. Instead, you will have, usually within your household, chemicals or natural products that can provide you with similar results. If you are tired of seeing streaks on your car windows after cleaning them, here is an overview of how you can clean car windows like the experts.
Tips on Removing Streaks from Car Windows
Streaks are an issue when it comes to cleaning windows. There are three reasons why it is difficult to avoid getting streaks on your car windows. The following reasons are particularly true in cleaning the front window.
Invest in a Quality Squeegee
First of all, the squeegee that you are using is likely defective. The squeegee will, over the course of several uses, have indentations that will occur, typically because of the cheap material that is used and represented as rubber. When you have these impurities, such as dust and other particulates, they can drag along with the inferior squeegee and create streaks. Splash and Go recommends investing in a squeegee that is more than a dollar or two. When it comes to cleaning supplies, you get what you pay for. For the best car glass cleaning cloth, use microfiber.
Use the Best Car Window Cleaner
Second, you may not be using the right cleaning chemicals or the right car window cleaner. Did you know that there are certain chemicals that you will have right at home to create a solution to avoid problematic streaks? Oftentimes, people go to the store and purchase the common window cleaner, Windex. Windex has ammonia, which is a highly unpleasant gas. To stay away from ammonia, try using the best homemade car window cleaner. Use white vinegar, isopropyl alcohol, and distilled water. When you are mixing all of this up, you are going to have very specific amounts by percentage. For example, half of the solution will be isopropyl alcohol, and the other half is going to be distilled water. Add a small amount of the vinegar by just using the cap on the bottle. Mix the three products together and pour them into a spray bottle.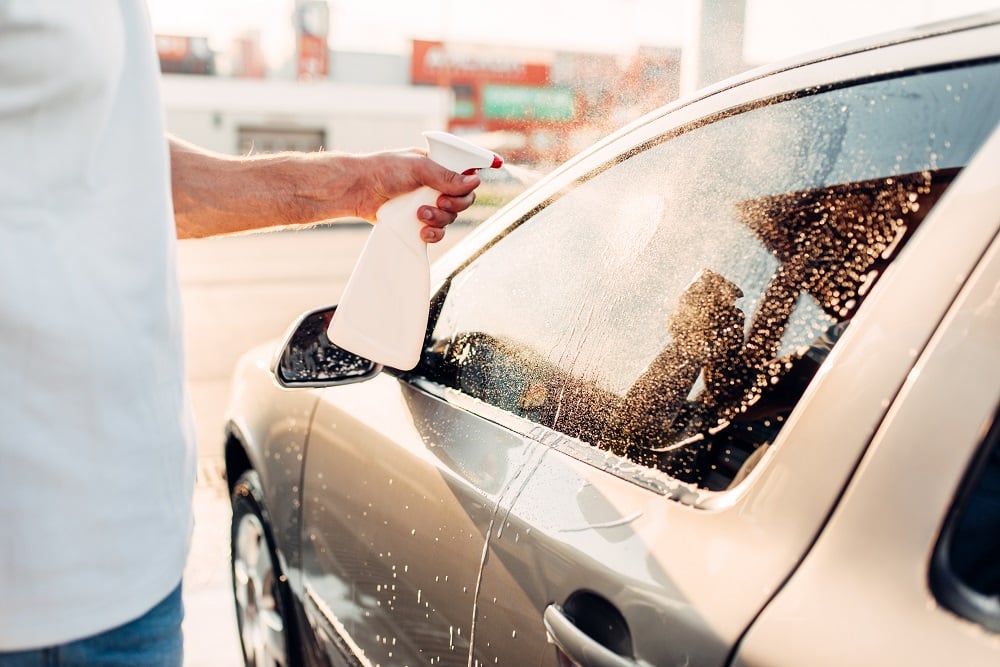 How to Use Squeegee and Microfibers
The third tip to remember is to wipe the squeegee off with every single pass, and you should also wipe the car windows down as well. There are certain types of microfibers that work best for these situations where you are trying to minimize streaking on your car windshield. Additionally, try spraying the solution onto the microfiber instead of directly onto the windshield.
Exterior And Interior Cleaning Of Windows
When you are cleaning the exterior of the windows, you will need to have a spray bottle that can be adjusted. Since you are spraying a long distance on the exterior of your windshield, you can set it to a stream. On the other hand, let's discuss how to clean car windows inside the vehicle. When you are cleaning the interior portion of your windows, you will change the spray bottle to a lighter pressure spray. It is vitally important that you use the microfiber cloth on the window before you spray it to remove any particulates that could cause streaking when you use your squeegee. 
Before you start the process of cleaning your windows, remember to pull your car into the shade. If the car windows get too hot in the sun, the solution tends to evaporate before you get the chance to clean the entire windshield.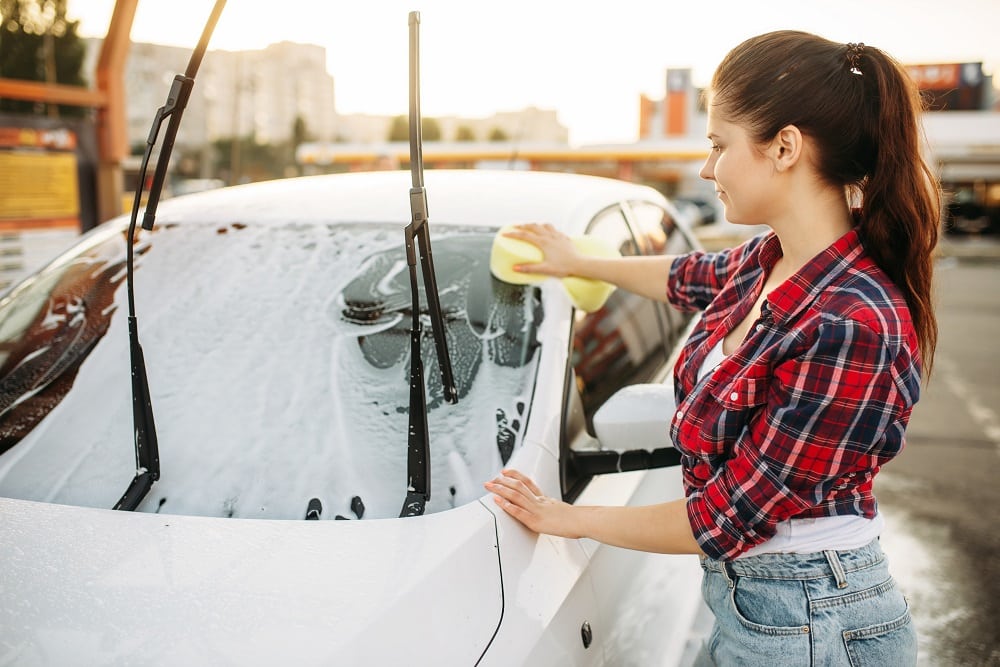 Splash and Go recommends starting with the windshield and the back window and then move on to the side windows. Speaking of the side windows, don't forget to wipe the top of the window that slides up to meet the rubber seal. Oftentimes, this is a part of the window that gets missed.  
How to Clean Tinted Car Windows
Tinted car windows can be tricky. Be very cautious when cleaning the tinted windows because the film scratches and dents easily. Avoid using ammonia-based cleaners, and opt for just soap and water with a soft, microfiber cloth. 
How to Clean Car Windows with Water Spots
Water spots on your car can affect your car's paint job. Water spots on your windows may not necessarily do damage, but it is important to know how to clean the water spots. If you see dirty water spots, try removing them with quality polish products. Grab the microfiber cloth we've mentioned, and buff the spot where there is water residue. Then use a foam applicator to finish cleaning.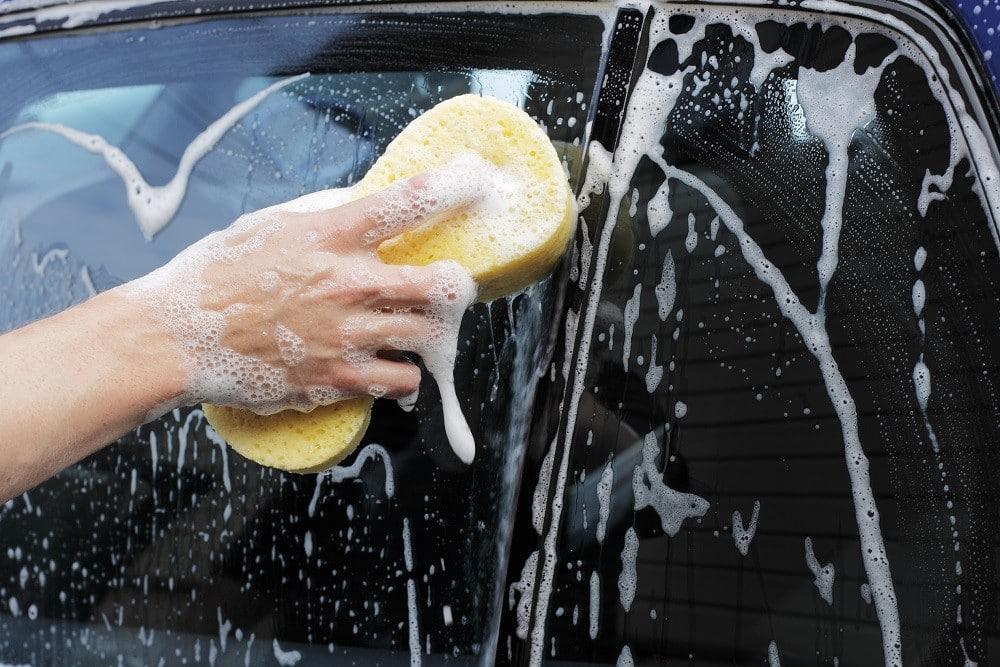 Conclusion on How to Clean Car Windows Like a Pro
With the tips above, we hope you have an easier time cleaning your car windows. Our tips on how to clean car windows will make your vehicle shine and glisten. If you want an easier route to maintaining a clean car, visit Splash and Go Express Car Wash today! We do the work for you.