Monthly Car Wash Club Membership
We're happy to offer our customers our monthly membership packages. Our packages benefit those who like to keep their vehicles clean on a regular basis.
How our Monthly Car Wash Membership works
Choose your plan when prompted at the auto teller. You can purchase it at any time during the month.

You will swipe your credit or debit card at the auto teller.

Your credit or debit card is automatically billed on each monthly subscription date.

Members may upgrade to a higher wash and pay the difference at the time of wash.

We install a small barcode tag on your windshield that is scanned at the auto teller upon each visit. Only the registered car is eligible for the program and must have a Splash Pass RFID tag affixed to the windshield.

If you ever wish to discontinue the plan, just notify Splash and Go Express Car Wash in writing 5 days before your monthly subscription date.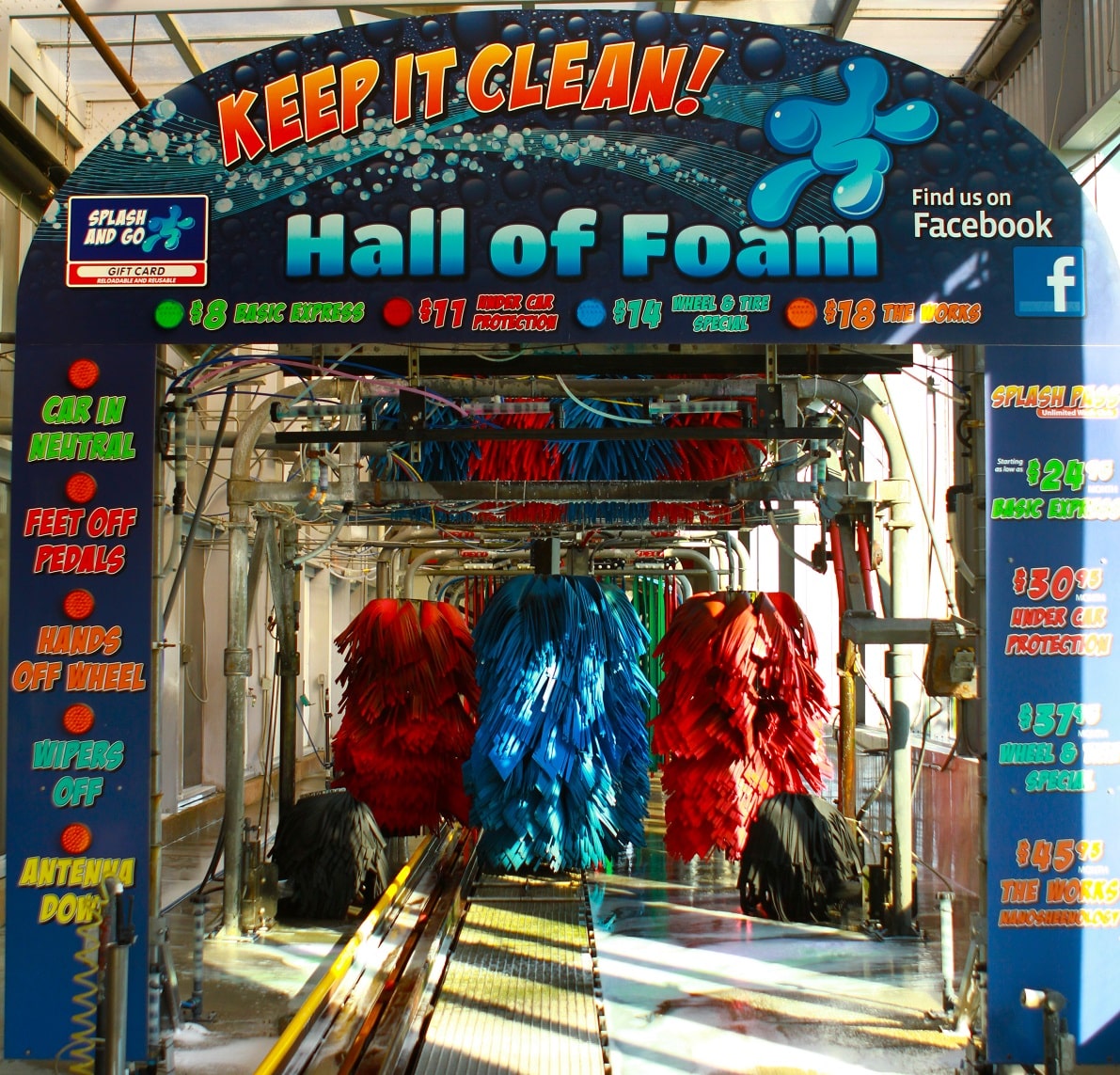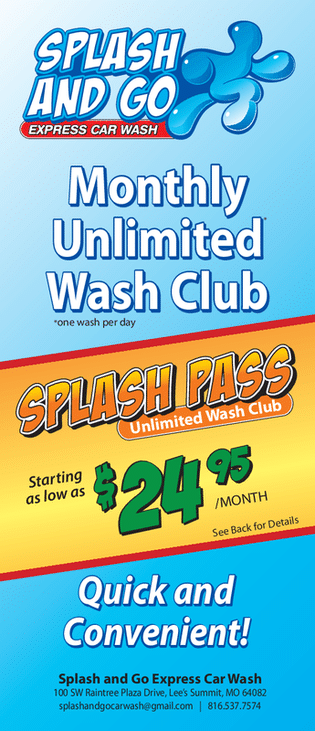 Monthly Car Wash Club FAQ
THE WASH CLUB MEMBERSHIP IS CAR SPECIFIC. EACH VEHICLE NEEDS TO
PURCHASE ITS OWN PLAN AND WILL BE TAGGED WITH A UNIQUE ID TAG.
NO. THE WASH CLUB IS A RECURRING CHARGE TO YOUR DEBIT OR CREDIT CARD THAT RENEWS MONTHLY ON THE ANNIVERSARY DATE OF YOUR SIGN UP.
NO, THE MEMBERSHIP DEAL IS SO GOOD, WE WILL NOT ACCEPT ANY OTHER DISCOUNTS TOWARDS THE PURCHASE OF A CLUB MEMBERSHIP.
YOU MAY WASH THE COVERED VEHICLE ONCE A DAY, EVERY DAY OF THE MONTH. ALL MEMBERSHIPS INCLUDE FREE VACUUMS.
YES. IF YOU CANCEL YOUR MEMBERSHIP BETWEEN RENEWAL DATES, YOU WILL BE ABLE TO USE THE REST OF THE PREPAID TIME ON YOUR ACCOUNT. WE DO NOT PRORATE FEES AND THERE IS NO REFUND ON MEMBERSHIPS THAT ARE NOT CANCELED WITH 5 DAYS' NOTICE.
NOT A PROBLEM. PLEASE CALL THE OFFICE AT 816-537-7574 DURING BUSINESS HOURS 9 AM TO 4 PM TO UPDATE YOUR RECORDS.
YES, IF YOU ARE NOT GOING TO BE USING YOUR MEMBERSHIP FOR AN EXTENDED PERIOD YOU MAY SUSPEND YOUR MEMBERSHIP. WHEN SUSPENDED YOUR ACCOUNT WILL BE FROZEN. YOU WON'T BE ABLE TO USE IT BUT YOU ALSO LOSE NO TIME ON IT AND YOUR RENEWAL WILL NOT OCCUR DURING THE SUSPENSION. WHEN YOU ARE READY TO UN-SUSPEND YOUR MEMBERSHIP CALL THE OFFICE 816-537-7574. YOUR MEMBERSHIP WILL PICK UP RIGHT WHERE YOU LEFT OFF WITH THE REMAINING TIME THAT YOU HAD BEFORE SUSPENSION.
IF YOU HAVE CANCELLED THE MEMBERSHIP BUT YOU STILL HAVE THE STICKER ON YOUR WINDSHIELD, CALL THE OFFICE WITH YOUR CURRENT CREDIT OR DEBIT CARD INFORMATION AND WE CAN REACTIVATE THE ACCOUNT.  IF YOU NO LONGER HAVE THE MEMBERSHIP STICKER, YOU WILL NEED TO REPURCHASE THE MEMBERSHIP AT THE AUTO SENTRY AS YOU DID THE FIRST TIME, FILL OUT AN AGREEMENT AND GET A NEW STICKER INSTALLED.
NO MEMBERSHIPS ARE FOR PERSONAL USE VEHICLES ONLY. MEMBERSHIP IS ALSO LIMITED TO VEHICLES THAT CAN FIT ON THE CONVEYOR AND CAN SAFELY RIDE THROUGH THE TUNNEL.
NO, MOST CAR MANUALS WILL TELL YOU , FREQUENT PROFESSIONAL CAR WASHES WITH CLEAR COAT TREATMENTS AND WAXES PROTECT YOUR CARS FINISH FROM THE DAMAGING EFFECTS OF WEATHER, UV RAY DAMAGE AND THE CORROSIVE FLUIDS IN BUG AND BIRD REMAINS.
NO. YOU MAY CONTACT US AT SPLASHANDGOCARWASH@GMAIL.COM. WE REQUEST A FIVE DAY NOTICE. WHEN CONTACTING THE WASH PLEASE REFERENCE THE NUMBER FOUND ON THE TAG IN YOUR WINDSHIELD THAT WE GAVE YOU AT SIGN-UP. YOU MAY ALSO CALL THE OFFICE AT 816-537-7574.  SOMEONE IS IN THE OFFICE MONDAY THROUGH FRIDAY 9 TO 4. IF WE DON'T ANSWER RIGHT AWAY OR YOU GET A RECORDING, PLEASE LEAVE A MESSAGE AND WE WILL CONTACT YOU AS SOON AS POSSIBLE. WE ARE PROBABLY ASSISTING ANOTHER CUSTOMER, ARE AWAY FROM OUR DESK, OR IT IS AFTER BUSINESS HOUR.
YOU WILL NEED TO STOP BY THE WASH OFFICE AND EXPLAIN THE SITUATION TO AN ATTENDANT. THEY WILL GET YOUR CONTACT INFORMATION TO PASS ON TO THE OFFICE STAFF. ANYTIME YOU CAN REFERENCE THE NUMBER OFF THE STICKER WE PUT IN YOUR WINDSHIELD, THE PROCESS IS EXPEDITED. THE OLD TAG WILL BE DEACTIVATED AND A NEW TAG WILL BE INSTALLED AND NOTED IN YOUR ACCOUNT.
SOME VEHICLES HAVE FEATURES IN THEIR WINDSHIELD THAT PREVENT THE RFID TAG FROM BEING READ. THESE FEATURES INCLUDE METALLIZED WINDSHIELD, HEATED WINDSHIELD, INSULATED GLASS, SOLAR REFLECTIVE GLASS, AND/OR INFRARED REFLECTIVE GLASS. SOME CAR MODELS HAVE SPECIAL DESIGNATED AREAS ON THE WINDSHIELD TO PUT RFID TAGS. TO CHECK IF YOUR VEHICLE HAS SUCH AN AREA DESIGNATED TO NOT BLOCK THE USE OF RFID TAGS, PLEASE CHECK YOUR OWNER'S MANUAL OR CALL YOUR DEALER TO FIND OUT IF THIS AREA EXISTS AND WHERE IT IS LOCATED. TO JOIN OUR PROGRAM WE MUST BE ABLE TO MOUNT THE RFID TAG. WE SOMETIMES CAN MOUNT IT ON A MOON OR SUNROOF, BUT THE TAG IS REQUIRED FOR OUR PROGRAM.
CALL THE OFFICE DURING BUSINESS HOURS. CALL 816-537-7574 BETWEEN
9 AM AND 4 PM OR CONTACT US AT SPLASHANDGOCARWASH@GMAIL.COM