There are many different types of wheels including aluminum wheels, and if you aren't cleaning your wheels when you clean the rest of your vehicle, it's time to start. Splash and Go Car Wash is here to help! Below is a step-by-step guide on how to properly clean your car's aluminum wheels along with recommendations on cleaners, shiners, and how often you should be cleaning. 
Why Do You Need to Clean Your Car's Aluminum Wheels?
If you're still not convinced cleaning your car's wheels is important, consider the following points.
To begin with, cleaning your car's wheels takes care of brake dust and happens to be the only method to do so. Brake dust is produced when carbon and adhesive are removed from parts of your car including the brake pad and when metal shavings come off of the rotor. It is an extremely harmful substance, especially when it's hot, and it can cause your wheels to dent and corrode. Because brake dust is generated every time you drive, it is a constant issue that must be cleaned on a regular basis. Similarly, road filth and grime are other issues to keep in mind. 
Furthermore, if you're going to wash your entire car, it is smart to start by cleaning your car's wheels. If you don't, dust from your brakes and gross water may splash your vehicle as you are cleaning, wiping your hard work away.
Lastly, washing your car's wheels is important simply because your aluminum wheels shine and can look brand new after a good wash. 
Cleaning Aluminum Wheels on Your Car – Step-by-Step
1. Wash Off the Tires
As a first step, simply wash off the tires to get rid of dirt, grime, and dust. Use the highest water pressure possible and get into every hard-to-reach spot as you can. Rinsing your wheels thoroughly can free up your time and the following steps will require less effort if there's less dust and grime on the car to begin with. 
2. Use a wheel cleaner
Spray the wheel cleaner product onto each wheel.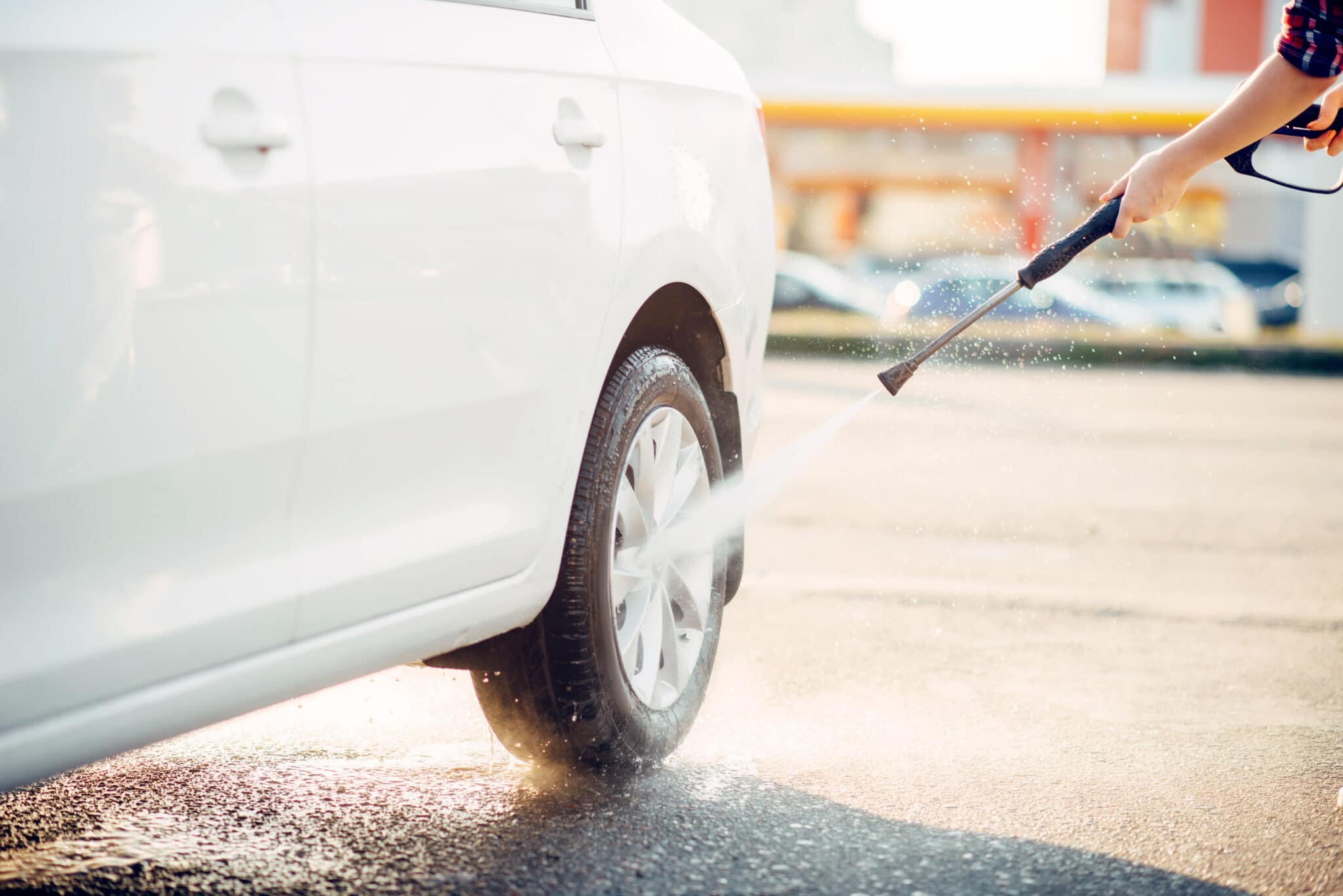 3. Apply some elbow grease
Scrub gently with a brush to get rid of all of the dirt and grime that is stuck on the wheels. While you're doing this, keep the entire area wet so the wheel doesn't get scraped, and be diligent that the wheel cleaner doesn't dry because it could leave unappealing marks and spots on the wheel. 
Clean in the middle of the spokes, using the brush, and grab a lug nut cleaner to wipe in the holes of the lug nut. It is critical to use a softer brush to avoid scraping the wheel.
4. Vacuum the wells of the wheel
Clean the wheel wells with a multi-purpose cleaner, using a stiff brush that has a long handle. Remember, wheel wells often accumulate the most dirt and grime. Using quality cleaning supplies is key. 
5. Rinse them again and pat them dry
Rinse and dry everything you've cleaned already with a  microfiber towel. You'll get water spots if you don't get the wheel completely dry.
6. Time to Clay
The next step is to clay the wheels using detailing clay.  While this isn't required, if you're wanting to thoroughly clean your car's wheels, we suggest this step.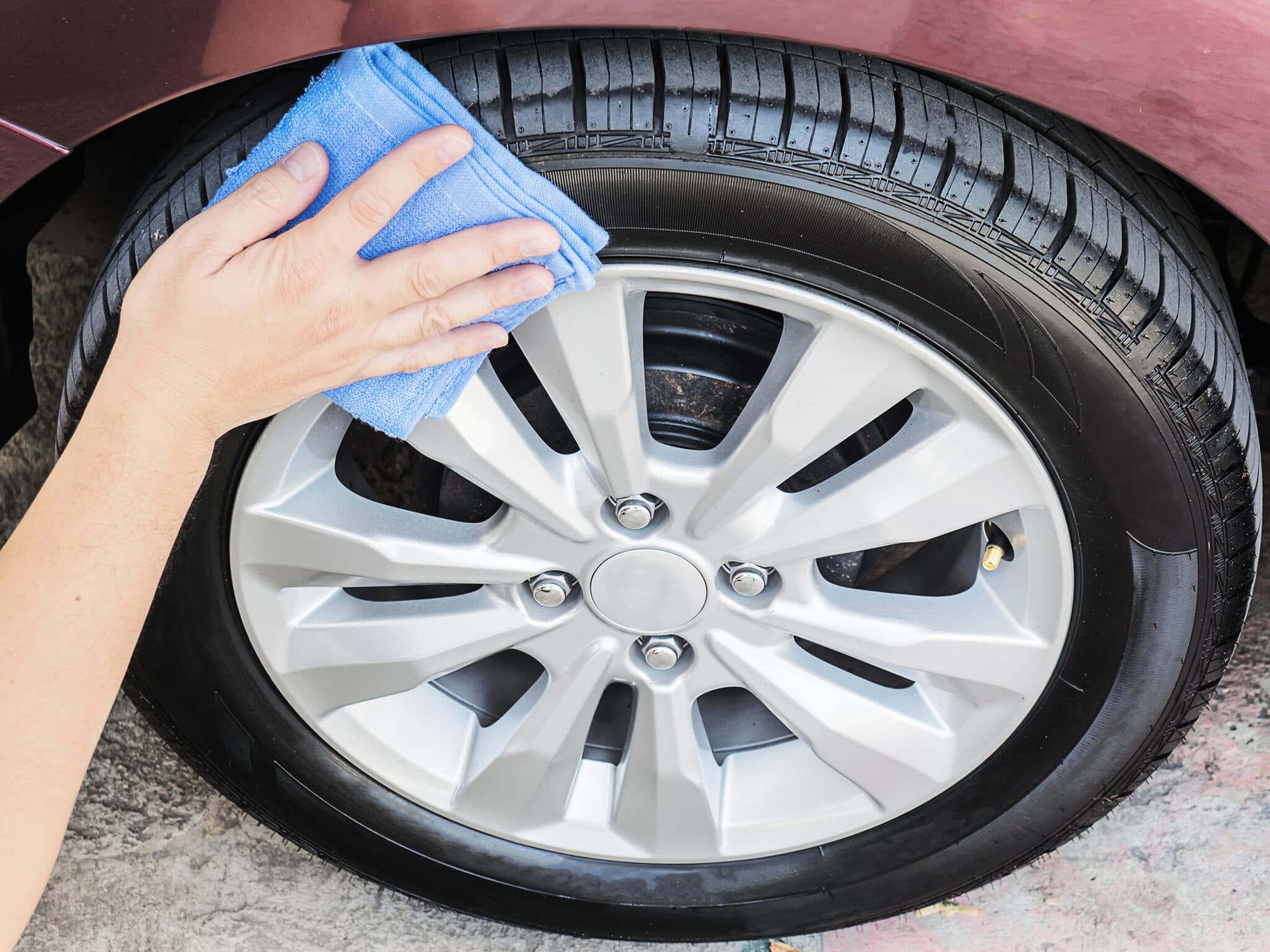 7. Polish and shine the rims
Apply polish that is specifically for aluminum in small sections with a clean towel. Using a clean rag in smaller sections will help prevent the polish from becoming too dry before you get the chance to rub the polish in. Begin at the surface of  the wheel and work your way to cleaning more parts including lug nuts all the way to the middle of the rim. For any crevices that aren't reachable otherwise, use an even smaller brush like a toothbrush and make sure to wrap it in a towel. When you're finished, wipe it down with another soft, clean towel.
8. Apply wax to the seal.
Apply wax to a clean, unused towel and pat it over the wheel's surface. Whether you use standard wax or a sealant that is specifically for metal, just ensure it's safe for aluminum wheels.
Allow the wax to dry for about 15 minutes and before wiping it down with a clean towel.
Now, take a look at your wheels. They should be gleaming and well-protected.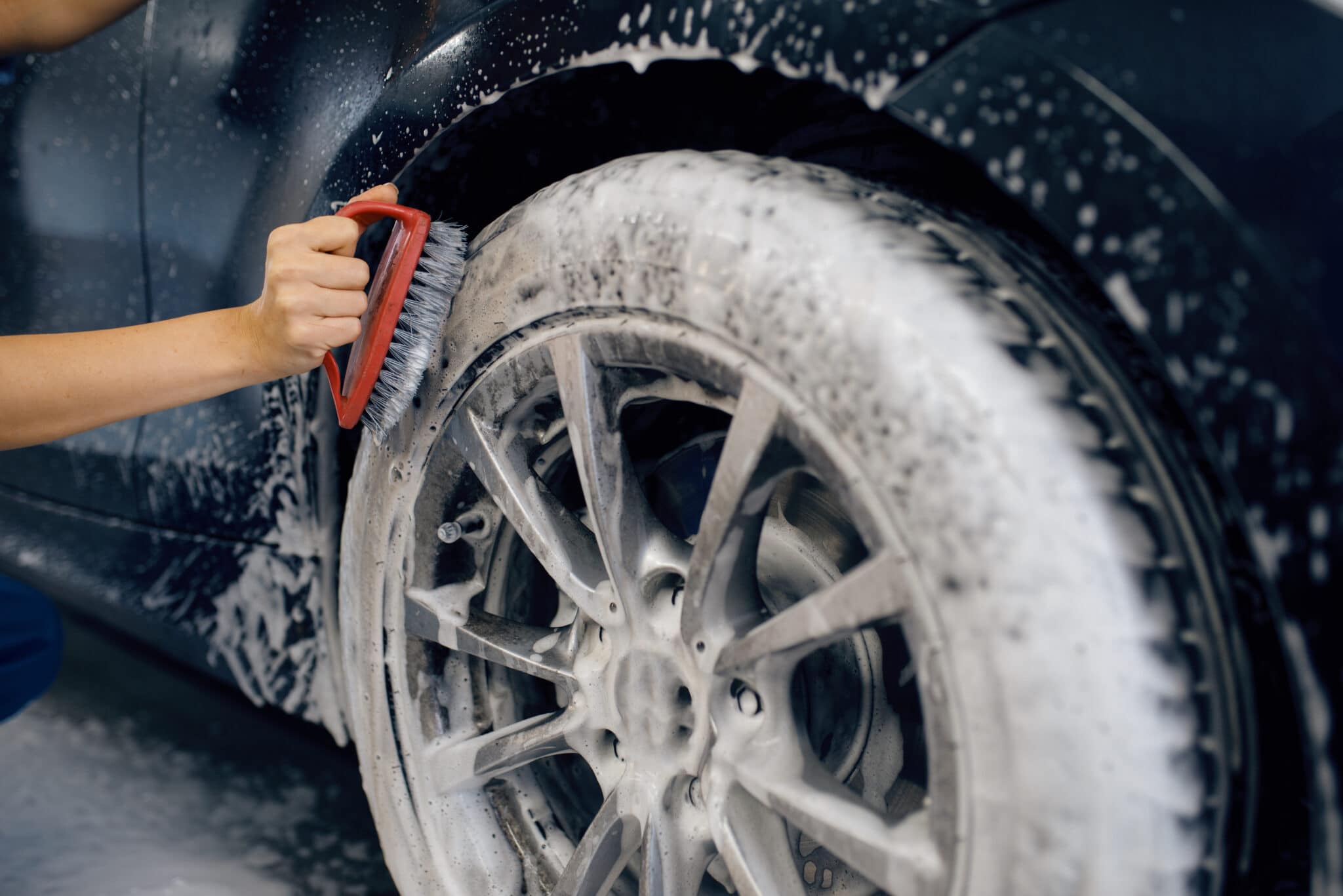 The Top 3 Wheel Cleaners and Polishes on the Market
Sonax Full Effect Wheel Cleaner
Meguiar's Hot Rims Cleaner No. 2
Meguiar's

is highly effective

Tough

Reaches the nooks and crannies of your wheel

Dissolves dirt and grime
Mothers Magnesium and Aluminum Polish
Mother's

is high-quality

Easy-to-use

Great reviews

Affordable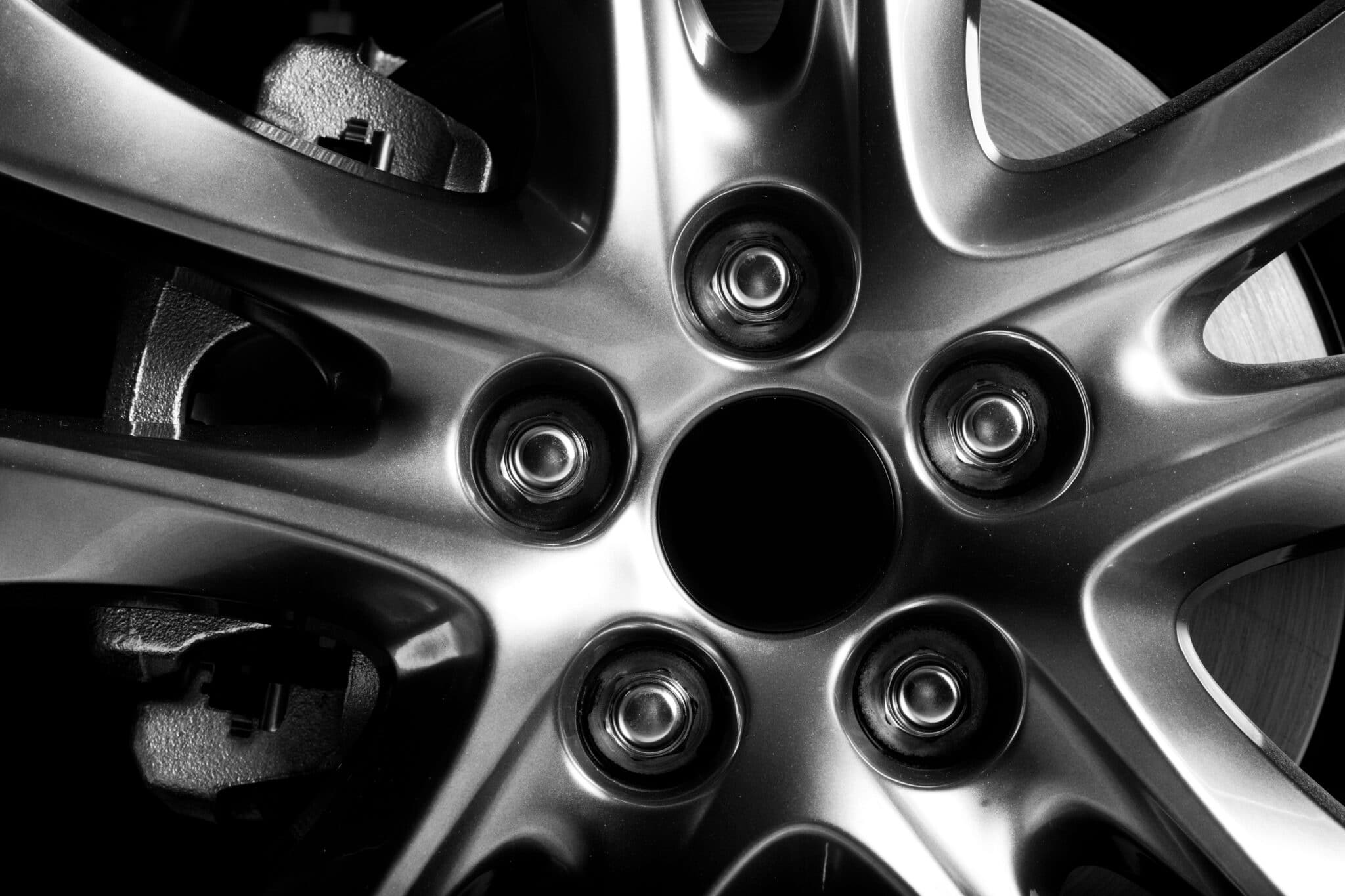 How Frequently Should You Clean Your Wheels?
Every time you wash your car, it's a good idea to wash and clean the wheels with soap, microfiber cloths, and water about twice every month. 
Thoroughly clean the wheels and make sure to add sealants and other protective substances at least 4 times a year. 
Having said that, the above tips are only broad guidelines. It is your decision to inspect the wheels and determine whether or not they are dirty.
Last Thoughts on Cleaning Your Aluminum Wheels
Next time you set your mind to cleaning your vehicle, remember not to skip the wheels. The above guidelines should help you clean your aluminum wheels without missing a step! Splash and Go Express Car Wash is here for all of your car care questions and concerts. Our express car wash is the perfect place to stop and give the exterior of your vehicle the attention it deserves. As we head into the cold, cold weather, make sure you're caring for your car the right way! Visit the top-rated Lee's Summit car wash today!