It is essential to be prepared for any situation, whether you're commuting to work or enjoying a long road trip. After all, you never know what the day may bring. There are certain things to keep in your car at all times to make your day go smoothly no matter what occurs. Having essential documentation, tools, and emergency items in your vehicle is a must.  Is your home in a rural community, or are you planning a road trip? If so, be sure to check your emergency car supplies before hitting the road. Consider the items below to be necessities. Seasonal weather should also influence what you have in your vehicle, so as summer fades into fall, examine the things to keep in your car and re-stock as needed.
Essential Things to Keep in Your Car
Owner's Guide
First on our list of essentials may seem obvious, however it is so important. Always keep your owner's manual in your glove box. Your owner's manual will provide you with vital information about your car that you may need. 
Registration, Insurance, and Licensing
It is essential to always have your license, registration, and insurance in your car when driving.  If a police officer or highway patrol ever pulls you over, they will undoubtedly ask for this information. To ensure you have up-to-date car insurance, consider downloading a digital copy of your insurance card to your phone.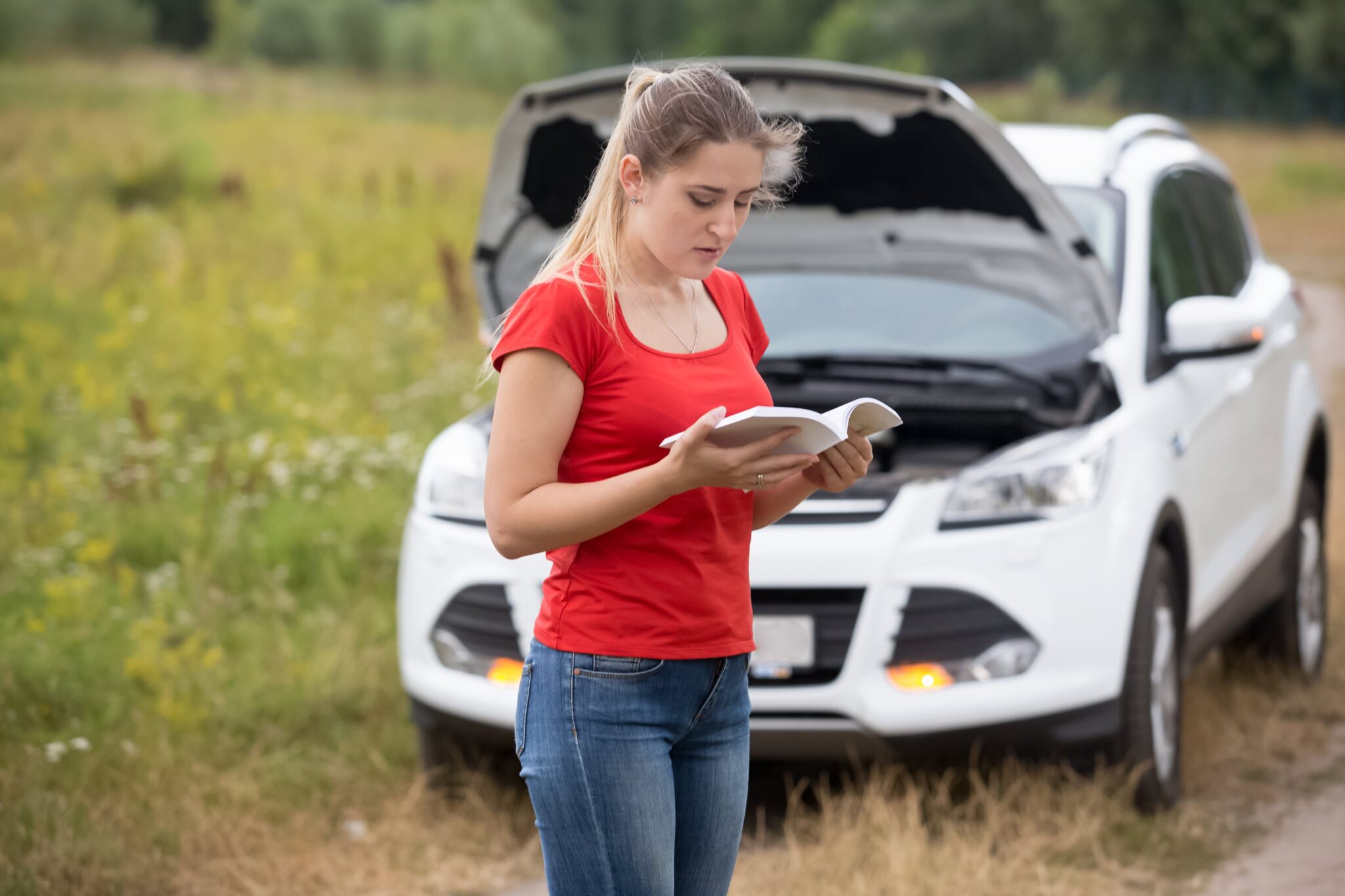 Spare Tire, Jack, and Lug Wrench
A spare tire, jack, and lug wrench are not just good things to keep in your car, they are essential. You should always keep the following three items in your car; if you miss one, the others won't do you much good. These three items are essential to change a tire and should stay together in your car. Also, if your car has locking lug nuts, keep a lug nut key in the car.
Jumper Cables and Battery Booster
If your car battery dies, it's not always safe to rely on a stranger for help. However, jumper cables and an emergency battery booster will help you get back on the road in no time.   
Most small battery jump-start kits now include USB ports for charging your gadgets. A jump-start kit is a fantastic item to add to your list of things to keep in your car.  
Tire Pressure Gauge
Never leave home without a tire pressure gauge. This little tool comes in handy because we can't tell by looking at your tire if it has the right amount of air pressure.  Even if your tire does not appear low, checking the air pressure is recommended to help with fuel efficiency,  improve the handling of your vehicle, and extend the life of your tires.  
WD-40 
Have you ever tried to remove a vehicle screw or bolt? WD-40 is great to have in your car at all times, whether you're changing your loosening lug nuts or removing a bolt.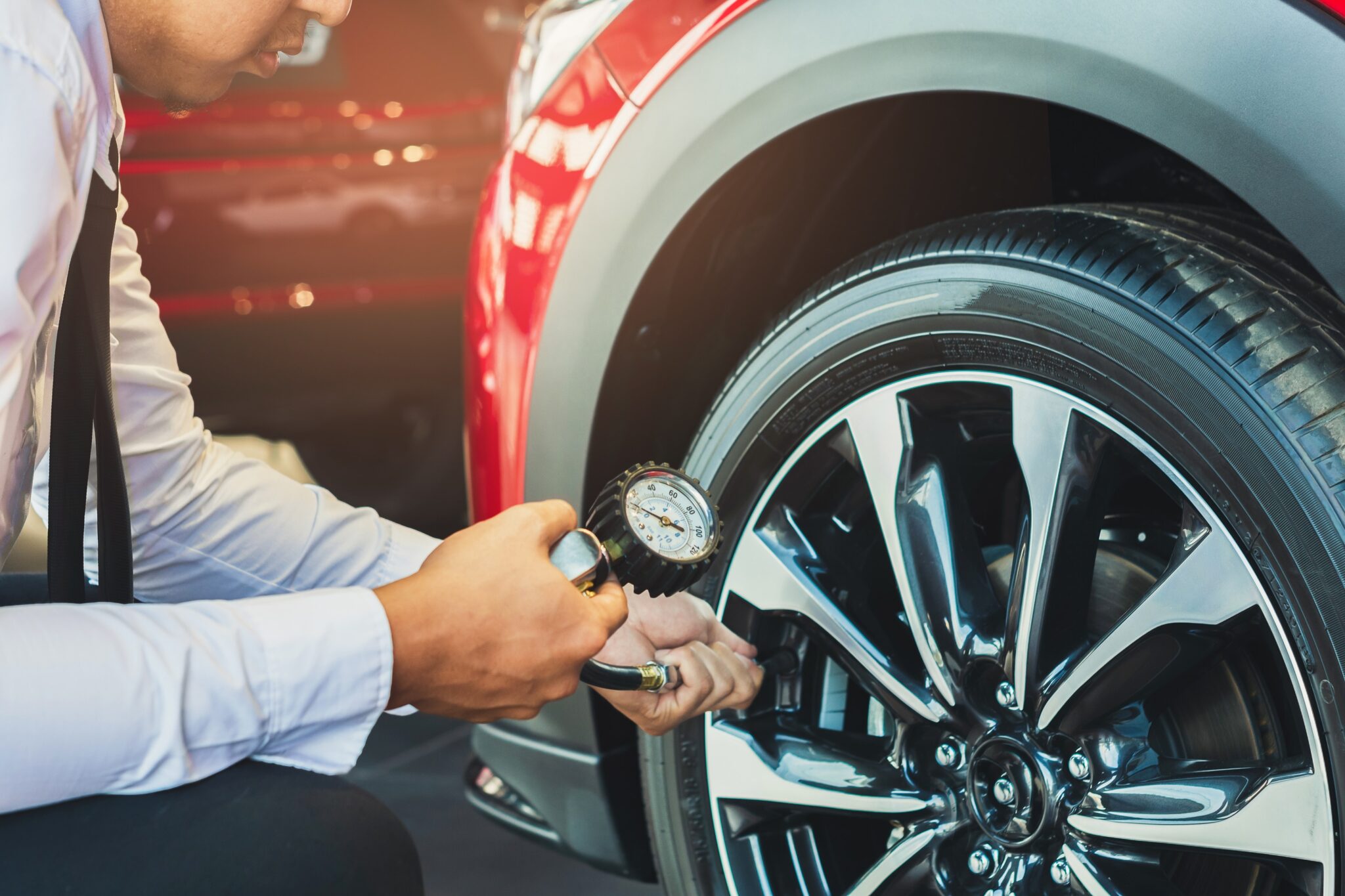 Duct Tape
When it comes to emergency solutions, duct tape can come in very handy! There are countless methods to use duct tape for unforeseen breaks, cracks, leaks, and more, making it arguably the most impressive and diversified thing ever. 
Cleaning Supplies
Keep cleaning supplies in your car to save frustration. There's nothing worse than spilling a cup of coffee or the kiddos spilling their juice on the seat or floorboard of your car, and you don't have anything to clean up the mess. If you're a pet owner, you know how important it is to have cleaning products on hand. Keeping some cleaning products in your car can save you time and frustration, especially if you're headed off on a longer road trip with dogs, kids, and family. By keeping the following items in your car, get ready for a clean and smoother journey:
Reusable shopping bags for trash

Shop towels or paper Towels

Bottles of water

Window cleaner and deicer

All-purpose interior cleaner
First-aid kit
Accidents happen, and unfortunately, we never know when or where you'll need a First Aid Kit. Life has a habit of catching you off guard, especially if you have children. Having a small first aid kit will come in handy. Your kit should include, at minimum, Band-Aids, gauze, first aid ointment, scissors, medical gloves, and an instant ice pack. You can purchase a first-aid kit at your local drug store or online.  You can also create your own first-aid kit. 
Along with the first-aid kit, make sure you have an emergency car kit in your vehicle at all times. This includes a variety of necessities on this list along with extra batteries, pain relievers, and any other emergency supplies you can think of. 
Tactical Flashlight
Everyone needs a flashlight in their car.  A tactical flashlight will come in handy if you ever get caught with a flat tire or engine trouble at night.  Keep extra batteries in the car in case you need them.  
Road Safety Triangles or Flares
Reflective road safety triangles or flares are perfect if you have a breakdown in the evening.  They provide improved visibility for oncoming traffic and reduce the danger of being struck by another vehicle as you wait for assistance.
Multi-Tool
Instead of keeping a bulky toolbox in your car, consider keeping a multi-tool in your vehicle.  This little tool can come in handy if you ever need a screwdriver, scissors, and more. 
Emergency Escape Hammer
The idea of having to break the glass in your car is not something most people think about; however, if you are ever in an emergency and can't get out of the car, having an emergency escape hammer could save your life.  Most emergency escape hammers come equipped with a seatbelt cutter as well.
Windshield Wiper Fluid 15
No matter what type of weather you are driving in, having an extra bottle of windshield wiper fluid is essential. Windshield wiper fluid is an essential ally in keeping the vision clear in unpredictable weather.
Snowbrush or Ice Scraper
When snow and ice cover your windshield in the winter months, it's unlikely you are going anywhere if you cannot clean it off.  Keep a snowbrush or ice scraper handley in your car to remove snow and ice.  Having a snow brush or scraper on hand can save you time and effort in removing snow from your car.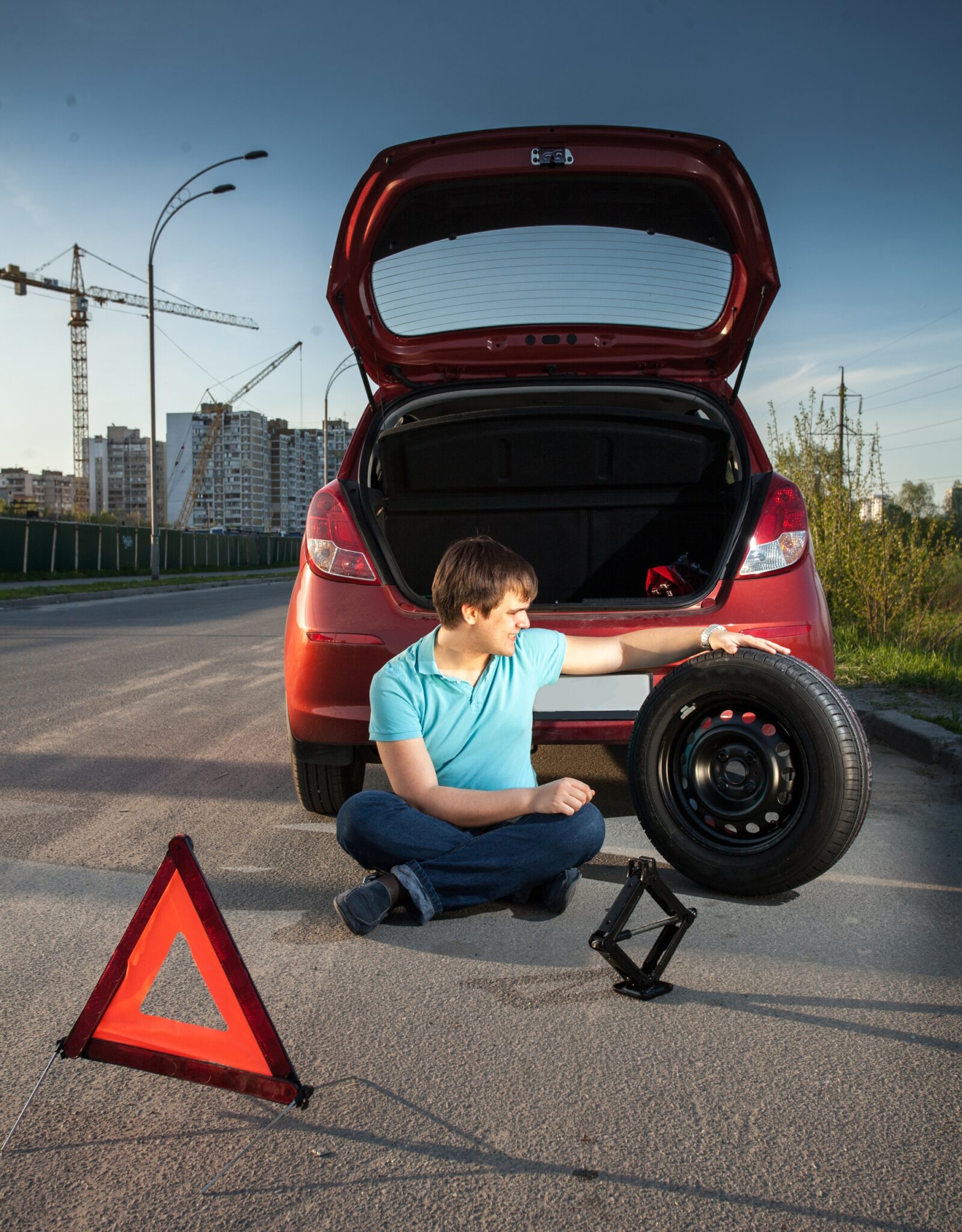 Warm Clothes and Winter Gear
Weather during the winter can be erratic. When you leave your home to head to work, the weather may only be cool; however, it can turn bitterly cold in a short amount of time. Therefore, keeping a snow cap, scarf, gloves, and extra clothing is highly beneficial.  Keep these winter staples in a waterproof tote in your trunk, so you have them when you need them.
Blanket
Always keep a blanket in your car because you never know when you will need one.  Blankets are ideal for picnics if you need to lay on the ground to get under your car or simply help prevent a mess.  Additionally, keeping a blanket in your car will help you keep warm in a snowstorm if your car breaks down.
Waterproof Tarp
If your car breaks down, you may need to get down on the ground to inspect or make a temporary repair. Likewise, when a tire goes flat, or you need to install tire chains, you will also contact the ground. In such cases, a waterproof tarp is ideal.
Last Thoughts on the Best Things to Keep in Your Car
Splash and Go Express Car Wash hopes the above list helps you get your car ready for a road trip, for the colder seasons, and for a smoother time driving. Like we mentioned before, you never know what you can run into while driving your vehicle. Being prepared gives you peace of mind and the confidence that you are ready to be on the road, safely. So, if you're going through our list of the best things to keep in your car at all times and you're missing a few key essentials, stock your car today! While you're stocking the inside of your car, stop by Splash and Go Express Car Wash. We are the best drive through car wash in Lee's Summit, and are here to keep the exterior of your vehicle sparkly clean!