Few things make me happier than seeing a car pass by with a massive dog hanging its head out the window, jowls and drools flapping in the breeze. I know you can't always tell a dog's mood by its countenance, but I have no doubt that dogs in cars with their nose in the breeze are happier than our four-legged best friends sitting at home staring out the window.
Having your dog out and about in a car, on the other hand, raises a few issues for canine safety. The first consideration is cleanliness: Even the most well-groomed dog will likely leave some hair or fur behind. And, if your target dog park is muddy, you'll undoubtedly be cleaning up dirt and paw prints for months.
The safety of driving with dogs, on the other hand, is more challenging. Thanks to decades of study and accident testing, driving with children in the automobile is a strictly scientific activity. With dogs, things are a little more relaxed. So, here's some advice on how to build a dog-proof car to keep your dogs and their different bodily fluids contained during a road trip.
6 Tips for Dogs in Cars
Man's best friend is an excellent travel partner, but to make the most of your time together, dog-proof your vehicle. Here are six simple actions to take:
First, clean your automobile.
It is critical to properly clean your car before you begin the process of dog-proofing it. A wet/dry vacuum may help you get rid of everything from dirt and hair to dried pieces of food and beverages that don't belong in your carpet or fabric fibers. Make sure your vacuum is powerful enough to extract all moisture from the fibers; if it isn't, it's worth taking the car in and having it cleaned by a professional.
Along with cleaning the inside of your vehicle, make sure you visit Lee's Summit's favorite car wash – Splash and Go Car Wash. Our automatic car wash will take care of cleaning the exterior of your vehicle, so it is ready for a road trip with your pet.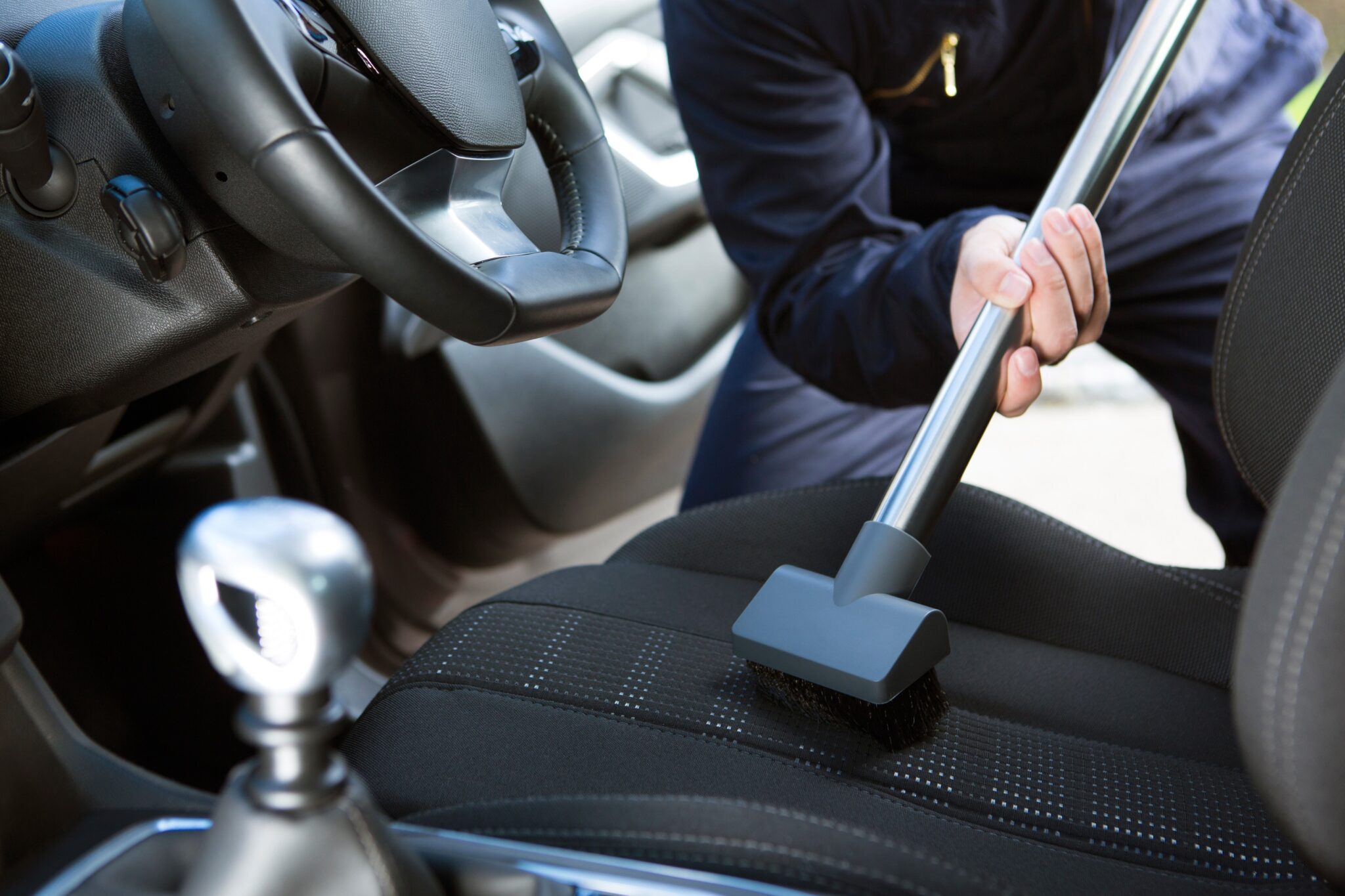 Barriers
Seat coverings are a fantastic place to start, but your canine buddy may want something a little more confining. While larger dogs are easier to confine, smaller dogs, who are inclined to explore, can slip between chairs and doorways. With a bit of nervousness thrown in, you can rapidly create a distracting and dangerous dog travel situation with a pup either attempting to get on the driver's lap or cuddling up on the floor at their feet. Neither is desirable.
Build barriers throughout your car to protect your pet and to ensure a safe driving environment. 
Purchase a seat cover.
It will be hard to keep the seats and floor totally clear of dog hair if you have a dog in the car. Rather than giving up, consider investing in seat coverings that will capture hair and make cleanup easier. If you do not want to invest in custom seat coverings, you can use blankets to catch the hair – then brush it off after each visit. Also, consider keeping a lint brush or lint roller in the console of your vehicle to assist you in picking up hair fragments that end up in the car between vacuuming sessions.
If you have vinyl or leather interior, ensure your pet's nails are always appropriately kept trimmed. Trimming your pet's nails is essential for their health and also helps to protect your car's seats and doors. A seat cover or blanket will help provide added protection.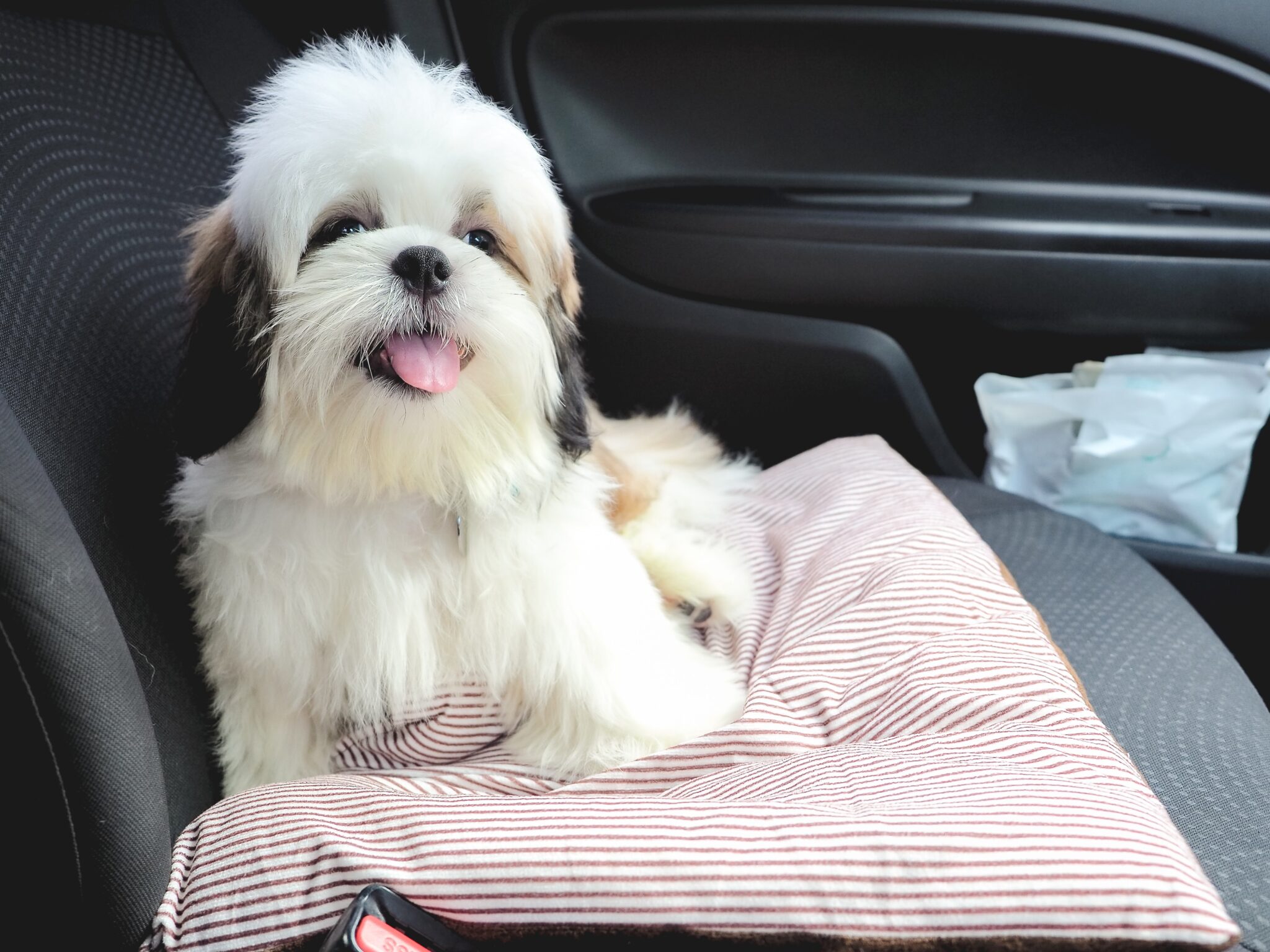 Have a safe place for your dog.
Give your dog a dedicated area, such as the rear seat, where you can restrain him with a harness fastened to the seat belt. Securing your pet will limit him from wandering around the car, making it easier to contain the area that needs to be "dog-proofed." In addition, creating a safe environment for your dog means less stress for both of you. Many states require you to restrain your pets while in a moving car, and dog kennels or specifically designed seat belt harnesses are readily available. Check your state's regulations to determine any regulations on traveling with your dog before you hit the open road.
Close the windows.
Those nose prints and drool streaks on the glass are one of the clear indicators of a dog in the car. A great way to eliminate nose prints is to use a baby window cover on your windows. It won't obstruct your eyesight, and when your trip is over, simply take them down for quick cleaning.
While it may appear sweet to other passengers, Rover should not poke his head out an open window while driving. Flying debris can injure him, and if the window is left open far enough, he may be thrown from the car in the event of an accident.
Keeping hydrated
Dogs require around an ounce of water per pound of bodyweight every day, and this quantity increases if they are excited and panting. Throwing your dog in the car may be quite distressing for them, especially if they know you're heading to the vet. As a result, make sure you can give fluids for your dog's health. I bought a Lixit WaterBoy water dish years ago, and it's accompanied us on hundreds of miles of road trips since then. It's simple to fill, stores vertically, and, although not wholly spill proof, does an excellent job of limiting the splashing to a minimum.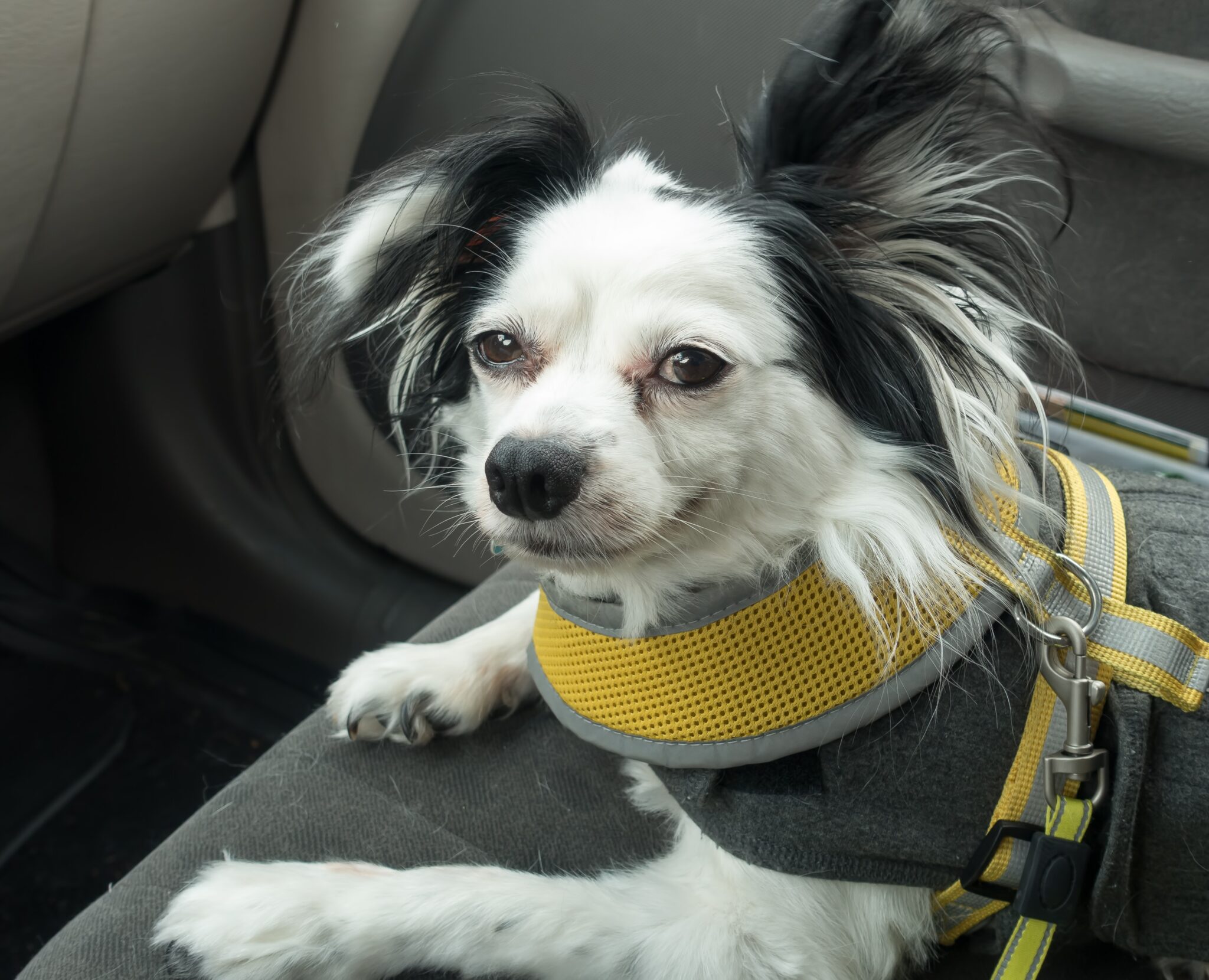 Quickly clean up any spills.
Even if you take all the essential measures, accidents happen. Taking care of them as soon as possible can prevent stains from settling in. Keep a spray bottle of upholstery cleaner on hand to remove spots. Always verify the manufacturer's recommendations for your vehicle's interior materials to ensure you're using the proper ones.
Remove odors
Consider utilizing essential oils to keep your car smelling fresh; they don't just mask aromas but also eradicate them, and many of them are anti-microbial.
The best approach to safeguard your car's interior is to plan ahead of time and avoid damage in the first place. If you've already had some issues, make sure to get rid of any lingering scents before you begin. They will return if you simply cover them up rather than eliminate them. For more tips on how to remove a bad smell in cars, Splash and Go dives into a step-by-step process on how to eliminate unwanted odors. 
Keep a step stool or ramp on hand.
If your dog is elderly, injured, or has difficulties climbing into the car, keep a retractable ramp or a step stool in your trunk. Having a pet-friendly way to get your dog into your car eliminates the need for you to pick them up.
Choose a long enough ramp to make an easy angle and solid enough not to rattle or shake as your dog walks on it.
Create a dog care kit.
Fill a basket or plastic bucket with stuff you might need while out with your dog. Below are a few items you might include:
A foldable bowl as well as a full water jug

Treats

Bags for poo

Second leash

A light on a collar or harness

First-aid materials

Wet towels (one for cleaning off dirt, one for drying wet fur)

Wipes for soiled paws

A lint roller (for heavy shedders)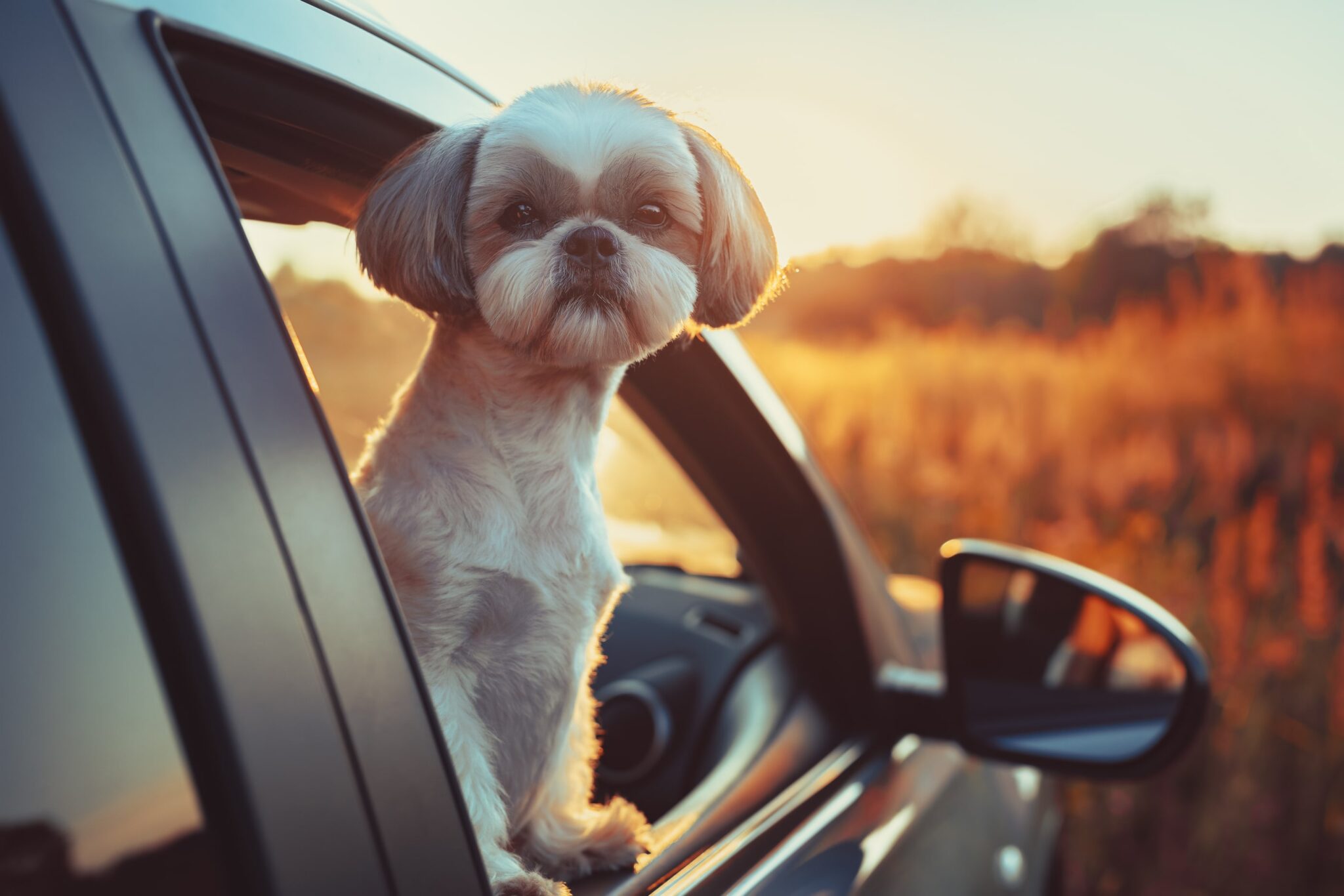 Concluding Tips for Dogs in Cars
Lastly, never leave your dog in a car alone, especially in hot weather. Even with the windows cracked, inside temperatures may quickly soar considerably above ambient temperature. Heatstroke and damage from frigid temperatures and a lack of ventilation or water may also occur in dogs. It is prohibited in several states to leave them unattended.
With the above tips for dogs in cars, get ready for a successful road trip with your pet. Whether you're headed on a trek across the country with your furry best friend or just headed to the dog park across town, the safety and comfort of your dog is key to a happy pet. For more tips on car cleaning and maintenance visit our website. And, if you're in need of an express car wash, visit Splash and Go Car wash today!