The Difference Between A Full-Serve and Self-Serve Car Wash
Every car needs to get washed. Washing your car is something that is a part of routine maintenance. However, your personal preference is up to the frequency at which your vehicle gets washed and how you go about washing it.
There are a couple of options available for washing your vehicle. One is washing it yourself. The other is having someone wash it for you.
Here's a good and comprehensive overview of the pros and cons of both. 

1. Full-Service Car Wash
By taking your vehicle to a full-service car wash, you get to experience numerous benefits.
Benefits: 
You don't have to worry about doing manual labor yourself
You get the job handled by an expert
You get your vehicle cleaned quickly and conveniently
The car is going to get cleaned with professional equipment
The main benefit you will get when you choose to get a full-service wash is that you have someone else handling the task for you. You likely have little free time as it is. You likely don't want to add more responsibilities if you have a busy life. By handing it off and outsourcing it to a professional, you can save a lot of time you would usually dedicate to the task. Outsourcing can save you a lot of time and energy. Not to mention, a professional will do a much more thorough job than you would. Having professionals to care for the cleaning means you get your vehicle cleaned as well as possible without exerting energy or wasting any of your time.
Negatives:
You will have to pay a lot more than doing it yourself
You need to trust someone else with your vehicle
The primary negative associated with hiring someone else to do it for you is the cost. The cost associated with going to a full-service car wash can be exorbitant. Not only that, but you need to leave your vehicle in the hands of a stranger.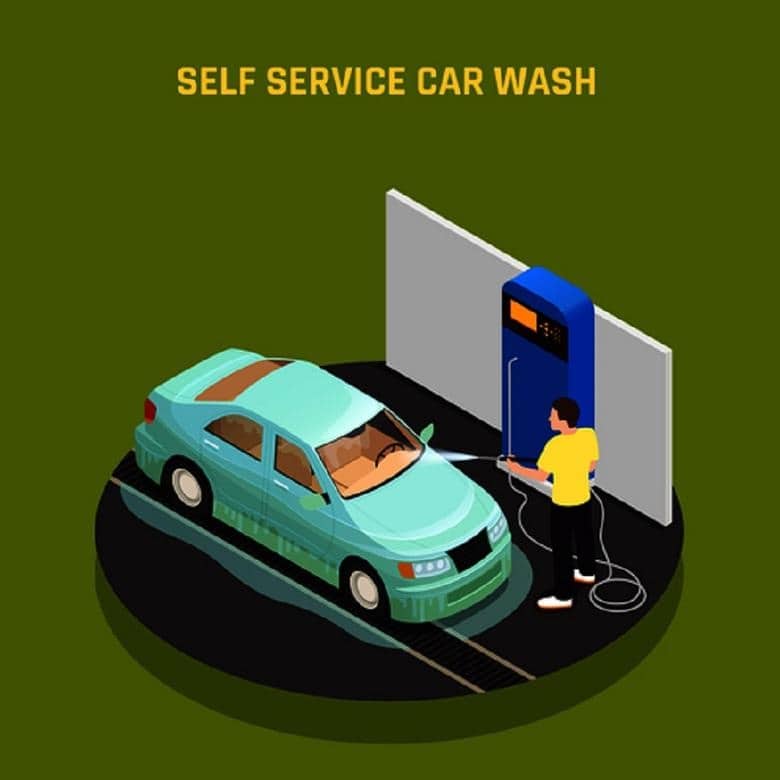 2. Self-Service Cash Wash
There's another option you have available. You could choose to go with a self-service option. Self-service car care is a good option for various reasons. 
Benefits: 
You don't have to pay too much
You can access professional equipment
You get to enjoy the hard work you put into it
The primary benefit that you get from going to a self-service car wash is the fact that you are going to save money. You can access the same equipment the professionals use, but you have to do it yourself. This access can be an excellent option for those that enjoy cleaning themselves. It's also suitable for those that want to save money and avoid the extensive cleanup of doing it at home. 
Negatives:
You will need to exert a lot of effort
You will not get as good of a detailed cleaning
The most significant disadvantage of going to a self-service cleaning spot is that you will have to do it yourself. You will likely not get impressive cleaning results unless you put in the work required. In addition, it will take a long time because you aren't as familiar with working with the equipment, and you don't have the muscle memory that comes with doing it daily. You will also get poor results compared to a professional.
What To Consider While Searching For A High-Quality Car Wash
Choosing a trustworthy vehicle cleaning service may be more complicated than one expects. However, your automobile is a beautiful possession and most likely significant to you.
That is why every decision about your vehicle's maintenance, care, and service is critical to its performance and value. One of these criteria is having a reliable facility to clean and repair your car.
Here are some things to look for when choosing a reliable car wash. A good vehicle wash service should include the following characteristics:
A vast range of wash options and services
High-quality products and equipment, value, convenience, and cost.
Various Services and Options
The flexibility to choose from various options and services is a key feature of a successful car wash.
Specialty car washes provide various vehicle wash options to guarantee you receive exactly what you want. In addition, you can choose between a package of services and individual services based on your interests.
These services include:
Exterior Wash Underbody Spray Rinse Wax Triple Poly Shine

Hand-washing windows

Vacuuming on the inside

Mat and upholstery cleaning

Car detailing is another option for a more thorough cleaning.

Self-service car washes are accessible for drivers who wish to take care of their vehicles while also using professional cleaning ingredients and equipment.

High-quality products and equipment
One of the key benefits of using a car wash service rather than doing it yourself is the quality of the products used to clean your vehicle and the equipment available to do it.
When you have the proper tools, it is much easier to carry out an effective and efficient activity. Therefore, only high-quality cleaning products and car washing equipment should be used.
Whether you pick full-service or self-service, you can be confident that only the best products are used to safeguard the value of your car.
Splash and Go Car Wash's Experience and Reputation
One warning sign is the reputation of a suitable vehicle wash in the neighborhood. A good reputation is frequently acquired over years of providing excellent service.
Value, Affordability, and Convenience
Splash and Go Car Wash strives to provide customers with good value for their money. Such in-depth understanding has resulted in a more straightforward approach to vehicle wash services. As a result, your car will be cleaned wholly and promptly, enabling you to have a do-it-yourself feeling with our automated car wash application.
Because these quality services are supplied at reasonable prices, Splash and Go Car Wash have enjoyed long-term success. As you can see, there is a lot to think about while picking a vehicle wash. Take the time to reread these suggestions and choose a suitable car wash that will correctly treat your vehicle.