When it comes to your car, Splash and Go Express Car Wash agrees clean is always better.  It just feels good to have a clean car that smells and looks great! After all, no one wants to get in a car that isn't clean.  It makes you feel uneasy and unfortunately can give off the vibe to others that you don't care. On top of that, a clean car gives the appearance that your car is well maintained and can help keep the value of your vehicle. Car interior cleaning can be time consuming, but it's not difficult when you follow a process. Keep reading to learn Splash and Go's 8 simple steps in car interior cleaning. 
8 Steps for Car Interior Cleaning 
1. Clear Out the Clutter
The first step to car interior cleaning is to remove any trash or clutter from your car.  If you can make it a habit to never leave trash in your car, you're on the right track.  However, if you tend to leave trash in your car, keep a small trash bag in your car that you can throw trash in so that its kept to one area and not all over your vehicle.  If you recycle, consider a separate trash back for recycling.  Once all the trash has been removed from your vehicle, you're ready for the next step in car interior cleaning.
2. Wipe Down the Dash and Inside of the Doors
Your dashboard and interior doors are notorious for collecting dirt and dust.  Be sure to use products specifically for the materials on your dashboard and interior doors so that you do not harm them in any way.  There are great foam wash products as well as car interior cleaning wipes to help with the job.  Start with the dashboard and work your way down to the front interior panel and console.  Don't forget the steering column and steering wheel. Give your steering wheel some extra attention as it is a great place for nasty germs to attach themselves too.  Once you are done with the dash, wipe down the interior door panels including door handles.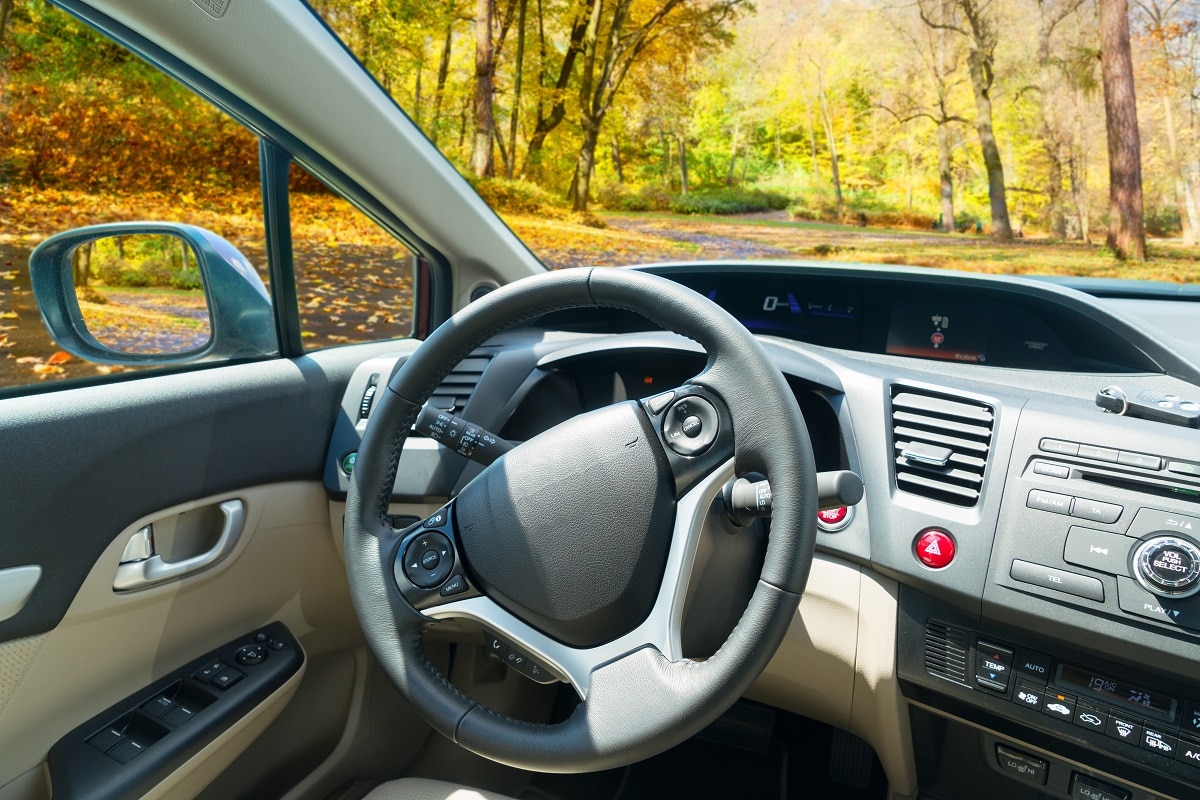 3. Shake Out and Wash Floor Mats
The second step to a great car interior cleaning is to remove the floor mats from your car.  Try shaking the mats before washing them to remove any loose rocks or dirt.  Then, with a bucket of hot sudsy water, regular dish soap works great, and a scrub brush, give them a gentle scrubbing.  This will help to remove any remaining debris and dirt that has gotten stuck in the grooves of the mats. Rinse the mats with clean water from a water hose and put them to the side to air dry.  If the weather is too cool to use a water hose, try rinsing the mats in a utility sink or kitchen sink to remove the left-over soap. 
4. Clean Windows Provide a Clear Driving Experience
Cleaning your interior windows seems to be a chore that gets forgotten.  Cleaning the inside of your windows is just as important as the outside. Regular cleaning will ensure that dust, fingerprints, and smoke are removed and provides higher visibility for you as a driver.  Start by using old newspaper, wadded up in a ball, to wipe down the inside of the windows. This will remove most of the dirt and grime. Next, use a quality streak free window cleaner to wipe down all the windows inside of your vehicle. 
5. Vacuum Interior Top Down
Vacuuming is a huge part to car interior cleaning. When you think about vacuuming your car, most people start with the floors then the seats and they completely forget about the ceiling.  Start the vacuum process from the top down. Vacuum the ceiling and work methodically downwards. The floor will be last. The reason to vacuum in this order is so that if any dirt floats down you'll get it cleaned up in the end when you vacuum the floors.  Be sure to move your seats so that you get all areas vacuumed and, if you have different cleaning tools available on your vacuum, be sure to try and use the appropriate tool for the surface you are cleaning. An example is to use an upholstery nozzle for ceiling and seats and to use a crevice tool to clean areas that have creases such as in the edges around door frames, seat crevices and pockets.  For dog hair try using a squeegee prior to vacuuming.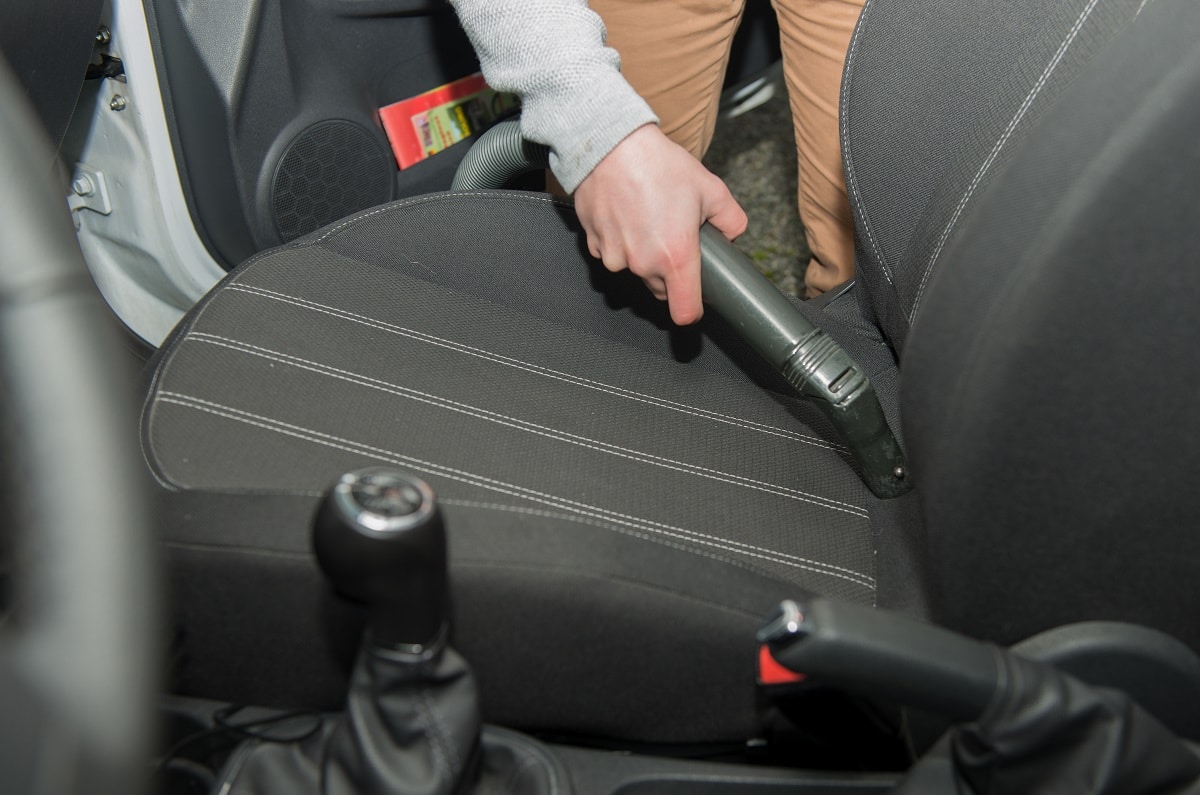 6. Cleaning Your Car Seats
Fabric Seats: It goes without saying that your seats should be thoroughly cleaned.  Sitting on a dirty car seat is not a pleasant experience.  If your seats are upholstered with fabric, check to see what kind of material the seats are made of.  This information can be found in the car manual or online by doing a simple search for the make and model of your car.  Most upholstered car seats can be safely cleaned with carpet cleaner or upholstery cleaner. Be sure to follow the guidelines on the cleaner you are using and never use chemicals that are not safe for materials, this includes window cleaners. 
Leather Seats: Leather seats can take a lot of wear and tear but over time, they will start to dry out and may start to crack.  When you are cleaning leather seats, be sure to use a soft cloth and a cleaner that is specific for leather. Once you have cleaned the leather seats you may want to consider wiping them down with a leather conditioner to extend the life of the leather.  
7. Stain Removal
Like most people there are the occasional mishaps of spilled food or drinks.  These spills can cause stains on fabric seats and on carpet on the floor of your vehicle.  Use a high-quality stain remover to remove the stains from seats and carpet. When applying the stain remover use a clean soft microfiber cloth.  Be sure to air out your car to get rid any chemical odors from the car interior cleaning products.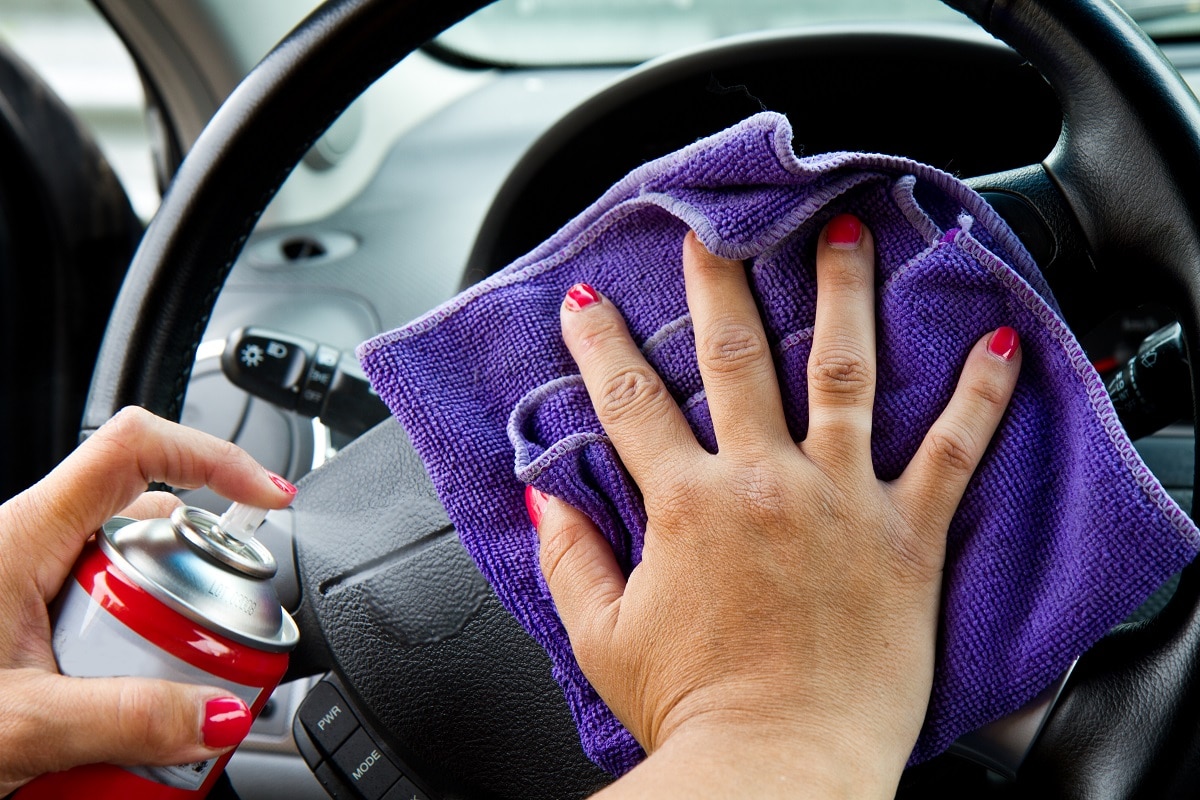 8. Freshen and Tidy Up
Once your car is clean, spray the inside of your vehicle with air freshener or odor eliminator.  This will help to get rid of any lingering odors that are still noticeable such as food or pet smells.  Be sure to put the car mats back in, along with anything else that you removed.  
Be sure to give your car the love and attention it deserves at least once a month.  You will be glad you did in the long run and your friends and family will appreciate the effort that went into your car interior cleaning process.  Make sure the exterior matches the interior, and visit Splash and Go Express Car Wash today!